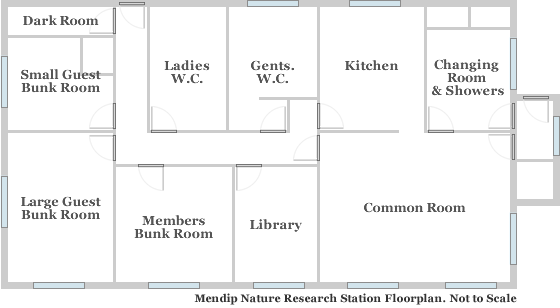 The Mendip Nature Research Station at Wells Hill Bottom is a spacious purpose built centre situated on the B3135 Cheddar road, high on the Mendip Hills. It is within easy reach of the major Mendip caves, Wells city centre and is within walking distance of The Ploughboy Inn for food and liquid refreshment.
The Hut (as our Station is often fondly known) enjoys the benefits of a comfortably furnished common room, which boasts soft arm chairs and sofas and a central open fire- just the place for thawing after a taxing day in the often unpredictable Mendip weather! We also enjoy the advantage of being purpose built, affording us facilities ideally suited for outdoor pursuits including a drying cupboard, hot showers and a 'dirty' changing area (perfect for shedding dirty/wet kit and outdoor gear).
In 2021 it was completely rewired and now uses LED lighting throughout. Both gas cookers in the kitchen were also replaced.
With the aid of a grant from the Sports Council we now have a new the air handling unit covering all of the dormitories and toilets.
Regrettably the Station does not have disabled access.
If you've enjoyed your stay at the Mendip Nature Research Station why not consider becoming a member?: Members get access to the full club facilities, reduced bed night rates and use of the members bunkroom without the need to book in advance - Full Membership Information
Members may use the station at any time, but guests and associate members must book in advance.
Got a Question? then please get in contact with the bookings secretary
VIEW AVAILABILITY
MAKE A BOOKING ENQUIRY
Pricing
Per person per night:
Members - £6.00
Non-members - £10.00
Daytime usage without overnight stay:
Members and Non-members - £3.00
Facilities
Fully equipped kitchen with 2 gas cookers/hobs, 2 microwaves, 2 fridges, toaster, pots/pans, crockery and utensils.
Three separate bunkrooms; Large Guest Bunk Room (3 double bunks and 9 single bunks), Small Guest Bunk Room (6 single bunks), and Members Only Bunk Room (3 double bunks and 9 single bunks). All bunkrooms are equipped with three tier bunks.
Large changing room with showers and drying cupboard.
Common Room seating area with sofas, comfy chairs, tables for dining, and a large central fireplace (wood provided).
Full central heating and smoke alarm protection.
Ladies and Gents toilets.
Library (members only).
Ample Free Parking.
WiFi.
Large garden area with barbecue.
Camping (by prior arrangement only)